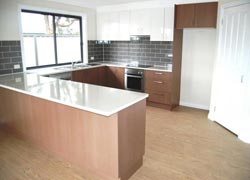 Is your existing kitchen getting old and in need desperate of a facelift? Look no further, our Modern looking kitchen design ideas are not only innovative and built to last the test of time, but will also cater for all your families entertaining needs.
At Buxban Constructions our kitchen renovations and makeovers will take your existing kitchen and replace it with a new modern looking design that will make you the envy of your family, friends and more important, add value to your home.
We are very proud of the quality of our work, so we have put together the following gallery showcasing some of the many kitchen design makeovers & renovations we have performed for customers throughout Melbourne and Regional Areas. If you like what you see and are interested in Buxban Constructions renovating or remodelling your kitchen, then please feel free to contact us direct on 0403 301 923 or via our Enquiry Form.
We look forward to helping with you design, build and renovate your kitchen.